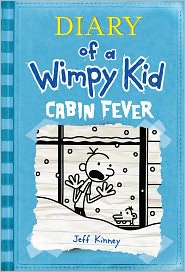 The 6th book in the Diary of a Wimpy Kid series has been released! It is called Cabin Fever.
Here's the official description:
"Greg Heffley is in big trouble. School property has been damaged, and Greg is the prime suspect. But the crazy thing is, he's innocent. Or at least sort of.
The authorities are closing in, but when a surprise blizzard hits, the Heffley family is trapped indoors. Greg knows that when the snow melts he's going to have to face the music, but could any punishment be worse than being stuck inside with your family for the holidays?"
Cabin Fever is available for from all of the usual booksellers and Amazon is selling it for $8.37, which is the lowest we have seen it anywhere.
Have you read Cabin Fever yet? How does it compare to the other books in the Diary of a Wimpy Kid series?