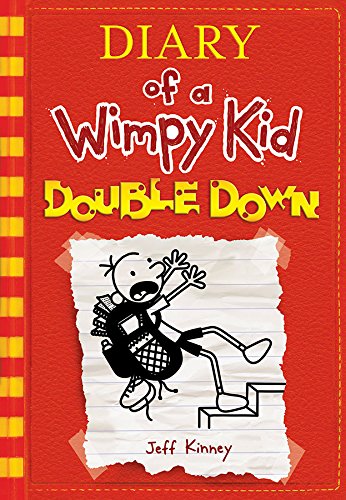 It's that time of year again where Abrams/Amulet announces a new Diary of a Wimpy Kid book! Book 11 in the series, Double Down, is set to be released November 1, 2016. Amazon already has it listed as a #1 Best Seller in the Children's Comics and Graphic Novels category…just based on the pre-orders!
I looked around at various prices and Amazon's is the lowest at $7.92. One of the nice things about ordering through them is that if they drop the price before the release (which they sometimes do if their competitors are selling it for less), you get the lower price.
According to Publishers Weekly:
"Greg Heffley has always believed there was something that set him apart from everyone else. In the new book, Greg discovers what makes him unique, and it's not at all what he expected," Kinney said in a statement. "After the 10th book, I found myself at a crossroads in my career. I wasn't sure if I should continue writing Diary of a Wimpy Kid books or go down a different path. Double Down is really special to me, because it reflects a renewed commitment to the series and a plan for the future."
We're excited about another new book!!