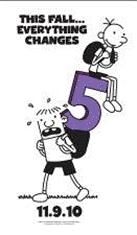 Amulet Books, an imprint of ABRAMS, has issued a press release with some new information about Diary of a Wimpy Kid 5. The fifth book in the Diary of a Wimpy Kid series will go on sale Tuesday, November 9, 2010. We know that the cover will be purple, but we will not actually see it or the title of the book until July.
One little hint that we got about the book came from the author himself. "I feel like everything in the series has been leading up to the fifth book, which is about change and the different ways Greg and his best friend, Rowley, deal with it," said Jeff Kinney. "To me, this book is the linchpin in the series, and I'm excited to be writing it."
If you happen to be at BookExpo in New York City May 26-27, you'll see a banner in the hallway for the book as well as giveaways of water bottles and bookmarks. Even more exciting, Jeff Kinney will be signing books at 11am on May 27.
We'll be posting information as we get it. One thing we know for sure is "This Fall…Everything Changes."