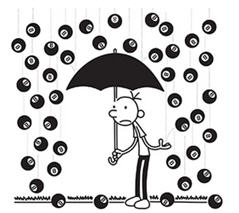 Great news for Diary of a Wimpy Kid fans! Abrams Books has announced that the 8th Diary of a Wimpy Kid book will be release in November of 2013. In addition to a U.S. release, it will also be released in the United Kingdom, Australia, Germany, Greece, Japan, Korea, and Norway.
Although they did not release the cover image or the name, we have heard rumors about "School Stress" or "School Dilemma." These are only rumors, however.
The image released above doesn't tell us too much. Obviously the "8 balls" refer to it being the 8th in the series. But I guess it could have something to do with pool. Or maybe "when it rains, it pours" or something along those lines?
You can read the full press release on the Abrams book site.
Do you have any guesses on what the title might be or what the new book will be about?