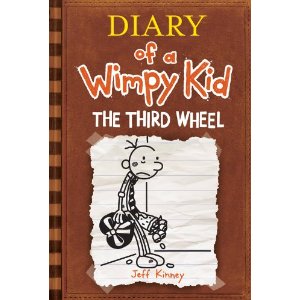 The 7th book in the Diary of a Wimpy Kid Series, The Third Wheel, is set to be released November 13, 2012. You can actually pre-order it right now from a number of different places to be sure that you get it as soon as it is released.
Here's what we know so far:
Love is in the air—but what does that mean for Greg Heffley?

A Valentine's Day dance at Greg's middle school has turned his world upside down. As Greg scrambles to find a date, he's worried he'll be left out in the cold on the big night. His best friend, Rowley, doesn't have any prospects either, but that's a small consolation.

An unexpected twist gives Greg a partner for the dance and leaves Rowley the odd man out. But a lot can happen in one night, and in the end, you never know who's going to be lucky in love.
So will we see Greg growing up in this book or will he still have absolutely no understanding of girls?? Order Diary of a Wimpy Kid 7 from Amazon today!