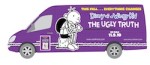 With the impending release of Diary of a Wimpy Kid 5: The Ugly Truth, the Diary of a Wimpy Kid Ice Cream Truck will again be touring the country. Last year one truck visited 40 locations, and this year two trucks will visit even more (52 total).
The tour will begin on August 15 and end August 28 with stops from Florida to the Midwest to Canada. Although Jeff Kinney will not be present at the stops, it will still be a pretty awesome opportunity. The truck will be giving out purple treats at each location and Abrams will donate a children's book to nonprofit organization First Book for each treat distributed. You get ice cream and someone in need gets a book! I'm particularly excited because one of the stops is only 10 minutes from where I live.
You can get the full details from Publishers Weekly and even see an agenda of where the Wimpy Kid Truck will be and on what days.